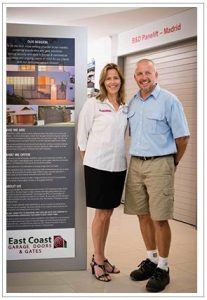 Our family-owned business is proud to announce we have rewarded a loyal customer with a door and opener package just for visiting our new Kunda Park showroom.
Our "Bigger, Brighter, Showroom" promotion encouraged customers to enter a draw for the chance to win a B&D Premium Door and Opener Prize Package consisting of a B&D Panelift® door and B&D Control-A-Door® P Diamond opener to the value of $3300.
Mountain Creek resident Brett Benstead didn't think much of his entry at the time he was at the store to buy an automatic gate aerial. "But when they called I said 'you're kidding me!'."
Mr Benstead renovated his home 18 months ago with a B&D Panelift® door from East Coast Garage Doors & Gates, so has given a builder friend the door to use on an upcoming project. Because all B&D doors are made-to-order, Mr Benstead's friend is able to choose his desired door size and colour.
Mr Benstead has a long history with B&D doors, having had one installed in his previous property. Asked why he likes the sectional door, he said it was an improvement on manual roller doors and less noisy.  His brother-in-law, also a builder, is a longstanding East Coast Garage Doors customer and recommended our B&D dealership to Mr Benstead.
"They had a good reputation so we've always gone there. We've never had any problems with our doors or openers in the past but if we drop in there for little things they're always very welcoming."
Working as a maintenance officer at Sunshine Coast Grammar School, Mr Benstead said he understands the value and importance of preventative maintenance.  "I have a lot of experience with that in my job so I already knew the merits. It's something we always do for our garage door every 12 months and it's really easy. We just book them and they come out and do it."
In recognition of our strong performance and high levels of customer service, East Coast Garage Doors & Gates was proud to be presented with a B&D Doors Excellence in Business Award for 2013, on the back of being named the 2011 and 2012 B&D QLD State Dealer of the Year.
Director Rachael Fitzgerald said: "It was great to be recognised and rewarded for the diligent efforts and focus of our team for delivering exceptional customer service and superior workmanship."