You can disengage a gate motor to manually operate the gate, when there is a power outage or motor failure, and the gate will not move using your remote control, keypad or motor panel.
WARNING:  Do NOT try to manually operate the gate, if it is unsafe to do so (i.e when there is a broken wheel or damaged track).
To disengage a gate motor/unlock the gate:
There is generally a simple method to disengage a gate motor.  Most popular brands of gate motors have either a manual release lever, handle or key.  You need to locate and use this to disengage/unlock the motor.
If the motor has a manual release key, insert the key into the lock and turn it. (If the key fits into a sliding gate door lever, pull the turned key towards you to open the door lever until it clicks into the fully unlocked position, generally perpendicular to the motor).  If a gate key will not turn in the lock, try spraying the lock with WD-40 or similar, to lubricate it.
If the gate manual release lever appears to be jammed, try jiggling or moving the gate slightly, then try the lever again.
Once the gate motor is disengaged, the gate will be unlocked, and you can walk over to the gate and try to manually open/close it by hand.
If you cannot locate your gate motor's manual release lever, refer to the images below for some of the most popular gate motors we see across the Sunshine Coast and Brisbane, or consult your manufacturer's user manual (download a copy from the manufacturer's website).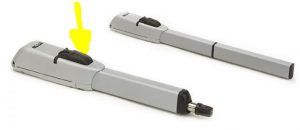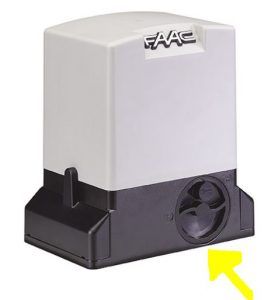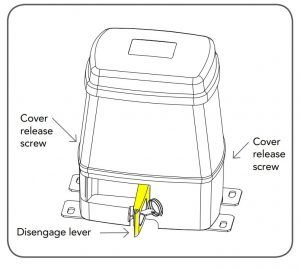 If you need to download the user manual from the manufacturer's website, here are links to those most commonly seen for our Sunshine Coast and Brisbane properties:
Call East Coast Garage Doors & Gates to arrange our Service Technician to attend and assist if you still cannot disengage the gate motor.
To re-engage a gate motor/lock the gate:
Turn the manual release in the opposite direction, to re-engage the motor.  (Or close the sliding gate key lever, and remove the gate key).  Once a gate motor is re-engaged, the gate will be locked even if there is no power available to operate it.
To test if the gate is locked, walk over to the gate and try to manually operate it – if it won't move, then you have successfully locked the gate.
Book a Gate Service or Repair
If you cannot operate your gate manually, as it is too heavy to move or it is not safe to do so, simply contact East Coast Garage Doors & Gates on 07 5476 9227 today and our friendly, professional team will book a Service Technician to repair your gate or motor.