Emergency Key Release for Automatic Garage Doors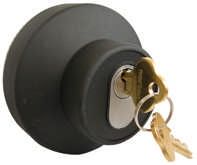 If your garage door is the only access you have to your garage and you have an automatic door opener then it is an excellent idea to also have an emergency key release fitted as well…..
This means that should there be a power failure this key can then be used to disengage your door opener so that it can be lifted manually……At East Coast Garage Doors & Gates we recommend the installation of an emergency key release at the same time as our service technicians install your automatic garage door opener, to ensure that you are never locked out of your garage.
The key plate is usually mounted towards the top of the door, just above eye level, and they are cleverly designed to allow for the disengagement of the opener with a simple turn of the key, so you have the peace of mind of knowing that you can always manually open you garage door.
Features and Benefits-
Recommended where the garage door is the only access to the garage.
Allows the automatic opener to be disengaged and the door operated manually in case of a power failure.
Can be fitted to both sectional and tilting garage doors.
Suits most overhead and tilting door openers.
If your automatic garage door currently doesn't have a key release in place our service team will be able to easily install one for you, so please contact us today to book or for further information.